Upcyclink launches its CSR approach
Upcyclink wants to make formal its Corporate Social Responsibility policy.
What's CSR ?
Corporate Social Responsibility (CSR) refers to the voluntary integration of social and environmental issues into the economic activity of the company and its relations with its stakeholders. CSR creates a balance between the 3 economic, social and environmental pillars. It is the application of the principles of sustainable development to the company.
Collaboration is the key word
As part of its governance policy, Upcyclink formalizes its CSR strategy in order to integrate it into its global strategy. This policy is intended to be collaborative and co-constructed. In order for it to be consistent with the expectations of its stakeholders, Upcyclink is conducting a materiality study.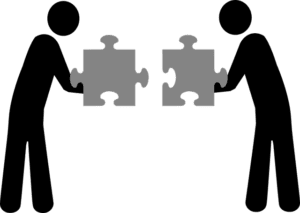 It consists in sorting, selecting and prioritizing the most relevant sustainable development issues, according to UpCyclink's priorities and its stakeholders' expectations. The issues are defined internally while the expectations are obtained through interviews.
Through its monitoring and in this spirit of collaboration, UpCyclink participates in working groups, attends and exchanges at conferences on the implementation of CSR strategy, regulations, tools, labels and effective practices.
CSR at the heart of company strategy
UpCyclink is based on a circular economy model. "Waste is a resource." Through our support missions, we support the ecological and societal redirection of our clients in the reduction of their waste, and therefore indirectly of their global impacts.
The formalization of the CSR strategy at the heart of our corporate strategy can strengthen the company's credibility with our stakeholders by ensuring transparency and a better response to their expectations. From an economic point of view, it would also allow us to reduce risks by anticipating new market opportunities linked to CSR issues (for example, calls for tender with CSR criteria, reflection on the Business Model).
Finally and of course, the CSR policy can allow for better overall performance thanks to its societal, social and environmental performance.  These are presented in particular through the reduction of the negative impacts of activities on the environment (waste, sustainable procurement, etc.), the increase in the well-being of employees (motivation, values, talent management, etc.).
This first draft will be refined over time in a process of continuous improvement. Regular communication on the evolution of the approach will be ensured.
Impact of our solutions
The implementation in situ of our solutions for the recovery of food co-products requires facilities and installations. A reflection on the quantification of the impacts of our solutions is in progress. We are evaluating tools, methods and data bases in order to obtain an efficient, adapted and optimized process.